Photo Competition - Nabiac Automotive Swap Meet
Submissions are invited for the Nabiac Swap Meet Photo Competition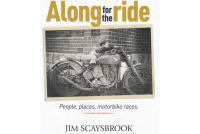 This years prizes are to be announced. Last year the winner received a copy of Jim Scaysbrook's book, Along for the Ride.
Runners up may expect a little something - probably a T shirt and a nice smile.
Focus of the event is of course the swapmeet, but all images with artistic merit will be considered provided they are related to the Nabiac environment.
Submissions will be judged by the museum owners and professional photographers, the best of which will be published on this website and associated Facebook page.
Please send photos to photos@nationalmotorcyclemuseum.com.au
Ensure a description of the photographs is include - where and when they were taken, the subject matter, the camera (or device) and perhaps a little about yourself. Include your name and phone number.
Entries close August 10th.
By entering the competition, you accept that your images may be published on this site and its associated social media pages, with appropriate attribution.